Kids Ministry at Cornerstone
At Cornerstone your kids are our top priority 🔝 We work hard to create a safe and friendly environment for kids to grow closer to Jesus and each other!
Every Sunday morning kids are dismissed halfway through our main worship session to enjoy special worship and teaching time 👦👧
Kids enjoy their own Life Groups and activities during our Life Group semester 🫶
We create special family events to hang out with our kids periodically throughout the year 👨‍👩‍👧‍👦
We would love to see you and your family! Plan A Visit or find a location using the cards below 👇
Your first visit
Here's what to expect when visiting Cornerstone Kids for the first time:
Find our kid's check-in station (different depending on the location) 🫡
We'll check your child into our system ☑️
One of our volunteers will give you a tour of our kid's spaces 🥾
Upon checking in for the first time, we will ask for the following personal information (NOTE: We value your privacy and will not share this information with anyone):
Parent/guardian name(s)
Child's name
Child's birthdate
Home address
Phone number
Any special instructions (allergies, special needs) for your children
How check-in works
Before Service: You can check in your child at the check-in station. After finding your child's name in the database, you and your child will be given matching name tags that are exclusive to your family and your visit. Your child will need to wear the name tag portion while you hold onto the matching tag.
During Service: We will dismiss your kid(s) during the worship service. They will be dismissed and asked to follow a teacher to their worship/classroom.
After Service: After the service is complete, you will return to your child's room and show your tag in order for your child to be released back to you.
Meet our Cornerstone Kids Coordinator
Harriet Pilcher has raised 5 kids of her own, grew up in the Marion County community, and attended Christ for the Nations (CFNI) with her husband Robbie Pilcher, Cornerstone's Marion County Campus pastor. Harriet has worked in various kids' ministry roles for many years. Along with other campus leaders and volunteers, Harriet coordinates kid events and curriculum at all Cornerstone campuses.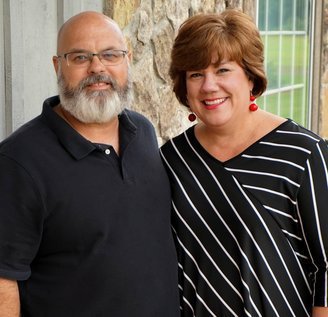 Interested in VOlunteering?
If you have further questions concerning our Cornerstone Kids or are interested in volunteering, click the button below to let us know you're interested, we'll be in touch soon 👏